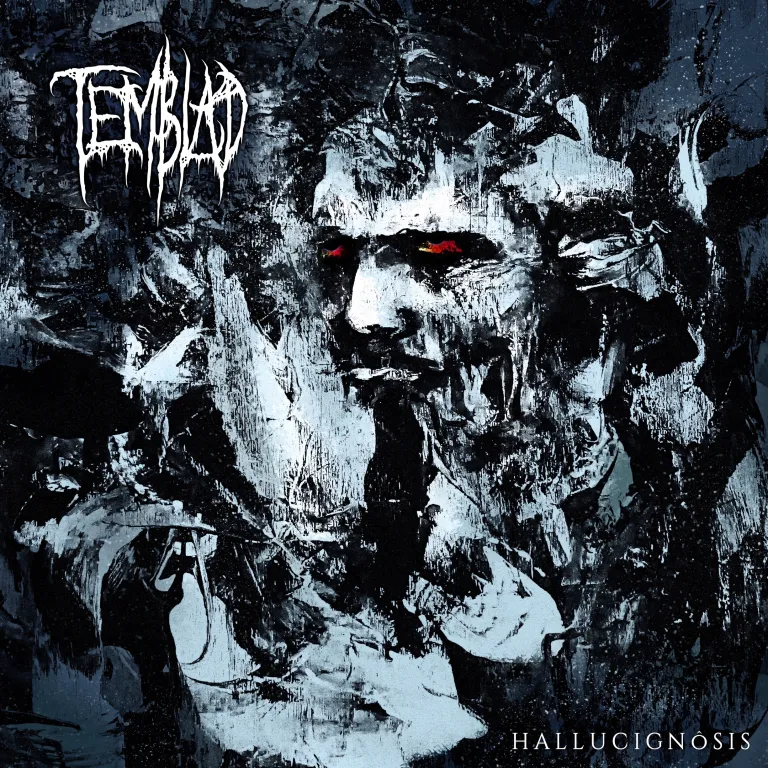 Listen to
Hallucignosis on Bandcamp
The long-awaited follow-up to Nevercrown! Shifting from the anti-fundamentalist theme of before, the album title and concept describes the mutation of the human mind through hallucinogenic methods to attain death of the ego, reaching clandestine perception. In a direction more harsh and foreboding, Hallucignosis plunges from its first note into a pit of intricate riffs, relentless blasts, and averse vocalizations… witness bedlam!
Released May 18, 2023.
Lorenzo Kemp – Vocals, Guitars.
Marlon Matthew – Drums.
All songs written and produced by Temblad
All lyrics written by L. Kemp except #1 by M. Matthew
All Vocals and Guitars tracked at Grindzik by Thysempiternus
All Drums tracked by HatrossRig
Guest vocals by HatrossRig on #1
Mixed and Mastered by
Niko Hyvönen
Art by
Jeff Klena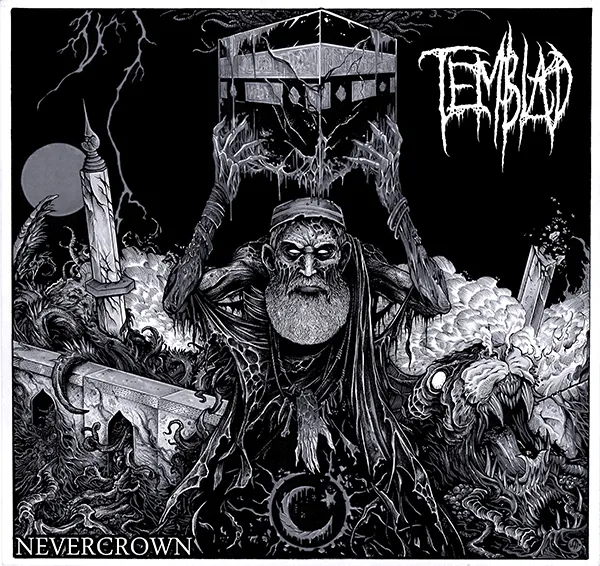 Listen to
Nevercrown on Bandcamp
In 2016, San Diego extreme metal band Temblad self-released their first album, Nevercrown. Featuring 14 tracks, Nevercrown displays a modern take on the classic death and thrash metal styles. Lyrically and thematically, Nevercrown is an unyielding denouncement of fundamentalist ideologies and practices.
"A great addition to the burgeoning again thrash/death metal hybrid, this opus, and respectively band, stand proud in the lofty company of other outstanding practitioners (Dimesland, Vektor, Black Fast, Droid, Torrefy, Outcast, etc.) who have also chosen the more technical/progressive side of it to explore. Unlike those, our friends here stay more on death metal ground, but this can only be beneficial in their case as the Voivod-ish element sounds even more prominent in league with the more brutal ways of expression, giving this album a fine characteristic veneer." –
bayern (Encyclopedia Metallum)
"It's a pounding and intense album, the wall of sound created by the constantly blasting drums and heated guitar riffage is ever present and crushing. Even while breaking into groove sections, the intensity and rhythm of the grind is present, tracks like 'Ships of Traitors' and 'Geist' sound like wrecking balls flying out of your speakers. I can only imagine what it would be like seeing this palpable wall of death in person." –
Metal Assault
"This is a winner on all counts seeing a rising force on the technical metal field with a lot of potential yet to be displayed in the future." –
The Thrash Metal Guide
Released April 26, 2016.
Lorenzo Kemp – Vocals, Guitars.
Marlon Matthew – Drums, Vocals.
Drums recorded at
Phaser Control Recording Studio
, San Diego, 2015.
Engineer – Patrick Heaney.
Co-engineer – Marshall Wilcoxson.
Guitars and vocals recorded at Grindzik, San Diego, 2015-2016.
Engineer – Thysempiternus
Mixed and mastered by
Niko Hyvönen
at NH, Oulu, Finland, 2016.
Produced by Temblad.
Cover art by
Sebastian Mazuera
.